Assam is known for its rich biodiversity, tea plantations and the oil resources. This state has an important place in India's wildlife map. Two of its national parks are UNESCO World Heritage Sites. The Kaziranga National Park and the Manas National Parks are home to the endangered one-horned Indian Rhinoceros, numerous aquatic birds, tigers, elephants and a host of other flora and fauna..
Assam Airports : Guwahati ( Lokapriya Gopinath Bordoloi International Airport ) , Dibrugarh, Silchar, Tezpur, Jorhat
Administratively Assam is divided into 27 districts:
1. Tinsukia ,
2. Dibrugarh
3. Sibsagar
4. Dhemaji
5. Jorhat
6. Lakhimpur,
7. Golaghat
8. Sonitpur
9. Karbi Anglong
10. Nagaon
11. Marigaon
12. Darrang
13. Kamrup Rural
14. Nalbari
15. Barpeta,
16. Bongaigaon
17. Goalpara
18. Kokrajhar
19. Dhubri
20. North Cachar Hills
21. Cachar
22. Hailakandi,
23. Karimganj
24. Kamrup Metropolitan
25. Baksa
26. Chirang
27. Udalguri
Population wise Assam has roughly half the population of UK. And area wise Assam compares a little smaller than Belgium.
The important tourist attractions in Assam include
Bordoibum Beelmukh Bird Sanctuary
Bornodi Wildlife Sanctuary
Burasapori Wildlife Sanctuary
Chakrasila Wildlife Sanctuary
Charaideo
Deepor Beel Bird Sanctuary
Dhansiri/Dhonxiri Valley archaeological region
Dibru-Saikhowa National Park
Digboi oil town
East Karbi-Anglong Wildlife Sanctuary Garampani Wildlife Sanctuary
Gibbon Wildlife Sanctuary
Gibon Wildlife Sanctuary
Guwahati archaeological region Haflong and Jatinga
Hajo archaeological region
Joydihing Rainforest
Kapili Valley archaeological region
Karbi-Anglong Wildlife Sanctuary
Kaziranga National Park ( UNESCO World Heritage Site)
Laokhowa Wildlife Sanctuary
Ledo and Stilwell Road
Madan Kamdev
Maibong
Majuli
Manas National Park ( UNESCO World Heritage Site)
Nambor Wildlife Sanctuary
Nameri National Park
Orang National Park
Panidihing Bird Sanctuary
Pobitora Wildlife Sanctuary
Podumani Bherjan Borajan Wildlife Sanctuary
Sarthebari
Sibsagar archaeological region
Sonai-rupai Wildlife Sanctuary
Sualkuchi
Surya Pahar Goalpara Archaeological region
Tezpur Archaeological Region
Umrangshu hotwater spring
Margherita , south of Digboi is notable for its relaxed ambient with its tea plantations and picnic spots on the sandy banks of Dihing river.
Lekhapani is a small town located southwest of Digboi mostly inhabited by the Tangsa Naga tribes.
Ledo Road (also called as the Stilwell Road, after the US General Vinegar Joe Stilwell) starts from Ledo located south of Digboi. Western Allies built the road during the World War II to connect Ledo in India to Kunming in China. The construction this treacherous road was initiated as Burma Road had been cut by the Japanese army in 1942 , which was major wartime supply line to China. Though its origin Ledo is in India, majority of Ledo Road is in Burma.
National Highway (NH 38) winds its way through Ledo to Lekhapani..
National Highways ( NH ) of passing through Assam
NH Route
31 From W.B. Border - Gouripur - North Salmara - Bijni - Charaliamingaon Junction with NH No.37
31B North Salmaria - Junction with NH No37 near Jogighopa
31C From W.B. Border - Kochugaon - Sidli Jn. With NH31 near Bijni
36 Nagaon - Dabaka - Amlakhi - Nagaland Border
37 Junction with NH No.31B near Goalpara - Paikan - Guwahati - Dispur - Nowgaon - Numaligarh - Jorhat - Jhanzi - Dibrugarh - Tinsukia - Makum - Saikhoaghat
37A Kuwari Tal - Junction with NH.No.52 near Tezpur
38 Makum - Ledo - Lekhapani
39 Numaligarh - Naojan - Bokajan up to Nagaland Border
44 From Meghalaya Border - Badarpur - Karimganj - Patharkandi up to Tripura Border
51 Paikan up to Meghalaya Border
52 Baihata - Charali - Mangaldai - Dhekiajuli - Tezpur - Gohpur - Bander Dewa - North Lakhimpur - Dhemaji - Kulajan - Arunachal Border - Junction with NH No.37 near Saikhoaghat
52A Gohpur - A.P. Border - Bander Dewa
52B Kulajan - Dibrugarh
53 Junction with NH44 near Badarpur - Silchar - Lakhipur up to Manipur Border.
54 Dabaka - Lumding - Langting - Hablong - Silchar - Dwarband up to Mizoram Border
61 Jhanzi - Amguri - Nagaland border
62 Dudhnai - Damara up to Meghalaya Border
151 Karimganj - Bangladesh Border
152 Patacharkuchi - Hajua - Bhutan Border
153 Ledo - Lekhapani - Arunachal Pradesh Border
154 Dhaleshwar (Badarpur) - Bhairabhi - Mizoram Border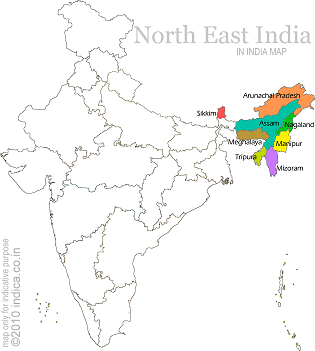 north-east-india
The contiguous Seven Sister States ( Arunachal Pradesh, Assam, Meghalaya, Manipur, Mizoram, Nagaland, and Tripura) and Sikkim.
See Also : Assam