Badami (BDM) is the nearest railway station for Pattadakal and Aihole. There are a few daily and weelky trains from Bangalore to Badami.
For some trains stop is at Bagalkot (BGK) which is about 25km north of Badami.
The best option is the Gol Gumbaz Express (Train No:16535) that leaves Bangalore by evening and reaches Badami in the morning.
The second direct train from Bangalore to Badami is the Yesvantpur Barmar AC Express (Train No: 14805) Though its a weekly once (Mondays) train and reaches Badami in late night.
Alternatively, if you are willing to break the journey in two, book in one of those Hubli (UBL) bound trains from Bangalore.  Get down at Gadag Jn (GDG). There are many trains passing through Gadag towards Bagalkot (BGK) via Badami,  Including a few passenger trains.
Checkout also your options to travel Bangalore to Badami by bus.
Train No.
Train Name
Departure Station
Departure Time
Arrival Time
Departure Days
16217
Mysore-Sainagar Shirdi Express
Bangalore City
08:20
21:15(BGK)
Mon
14805
Yesvantpur Barmar AC Express
Yesvantpur Jn
10:45
22:29(BDM)
 Mon
17307
Basava Express
Bangalore City
17:00
12:10(BGK)
Daily
16535
Gol Gumbaz Express
Bangalore City
18:50
06:44(BDM)
Daily
Also see the irctc.co.in website for updated and train timings.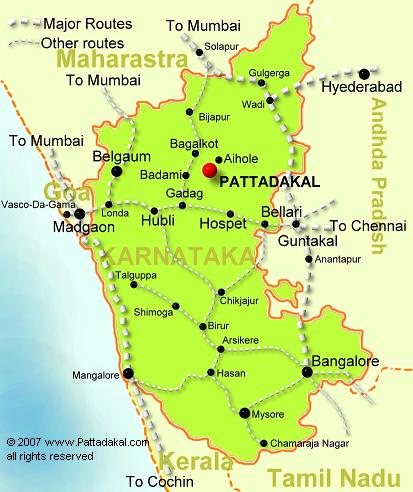 Pattadakal Road and Rail Map
Train Route Map for Badami, Pattadakal and Aihole. Badami is the nearest railway station
See Also : How to Reach Pattadakal