So, had you a fun time in Goa this summer? The vast stretches of sandy beaches, sarongs, bandanas, straw hats, coconut palms, dancing, singing, boat cruises, unbeatable nightlife, feni and the hippie culture!
How about a different type of trip? Maybe visit a nearby state that houses a UNESCO World Heritage site! Well to have to travel across only 277 km to witness this does not even take any planning! Yes, we are talking about the sleepy pretty village called Pattadakal in Karnataka! Just next door to Goa!
You will have left the Arabian Sea behind but what you will land near are the soothing cool breezes coming from the Malaprabha River in Bagalkot district! It will be different, very different from the palpable action in Goa but perhaps the right kind of change of scene for you! While you felt the sweltering in Goa, you will now be pleasantly surprised by the pitter-patter that will begin in Pattadakal to welcome you! What more can you ask for? Pick up that same backpack and move on! You will get there in a wink! Fun and frolic then and history and architecture now!
Pattadakal is 277km away from Goa. The road route takes less than 6 hours! Pattadakal does not have railway station. Hubli is the nearest train station connected to Goa. Trains to Hubli depart from a station in Goa called Madgaon. Train journeys on this route are known to be very scenic and enjoyable. Choose any trains among Vsg Howrah Express, Velankanni Express, Vsg Chennai Express, Vsg Sbc Link Express and Ypr Biweekly Express to reach Hubli.
For most of these, your travel time would range between 4.5 and 5 hours but for Vsg Sbc Link Express that will make you spend nearly 7 hours. Once you land in Hubli, it is a matter of 125km to Pattadakal that you can cover, as you like! You will have to undertake a road journey lasting a maximum of 2 hours.
It is up to you whether you wish to cover this by train, bus or a hired private vehicle. The distance is too short to give too much thought too! Just be sure you have some munchies and bottled water with you.
In case you are up for exploring Goa to Pattadakal all the way by car or taxi, that option is available too! You will be able to have a stop-over at Belgaum. From Goa, you could also consider Paulo travels bus service to Hubli. You could reserve 5 hours for this travel and then prepare for onwards travel from Hubli to Pattadakal. Paulo runs King Size AC Sleeper, Non AC Seater Sleeper, Non AC Sleeper and Volvo seater buses between Goa and Hubli. There are at least 5 such buses between Goa and Hubli. You should be prepared to shell out up to Rs. 550 for this route. So now that you have the full lowdown on all possible options and availability, you shouldn't be waiting! Pack your bags or just extend your Goa trip to now include this sojourn! You will love it!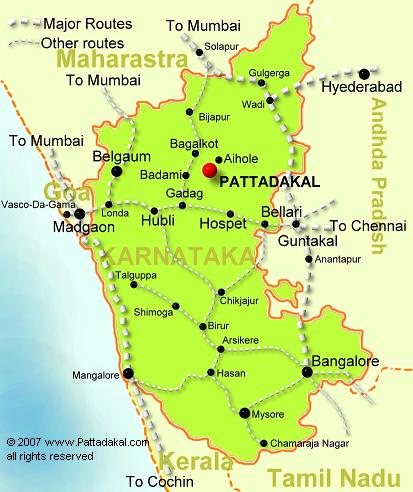 Pattadakal Road and Rail Map
Train Route Map for Badami, Pattadakal and Aihole. Badami is the nearest railway station
See Also : How to Reach Pattadakal