The palace for the head queen.
During the Mughal era separate palaces were built for the members of the emperors harem and special buildings were meant for the head queen. Jodha Bai was a rajput princess who was married to Akbar and was his principal queen. The Fatehpur Sikri – Jodha Bai's palace is the largest and the most important building which is a part of the emperor's harem. Although some historians do not agree that the palace was meant for Jodha Bai alone and believe that it was more of a Zenani-Dyodhi or a palace meant for the women and other members of the imperial harem. The palace is rectangular in shape and its dimensions measure 231'8" x 215' in area. There is a magnificent single gate which had guardrooms to provide protection to the members of the harem.
The significant part of the architecture of Fatehpur Sikri – Jodha Bai's palace is that there is a harmonious amalgamation of Islamic and Hindu art which are supposed to be very different and in fact opposite in features. There is a large number of Hindu motifs like swans, elephants, parrots, srivatsa mark, lotuses, ghant mala etc. The dalan or courtyard is colonnaded and has square pillars that are curvilinear. They have beautiful moldings and brackets that are extremely graceful. There are vedikas and several Hindu motifs in this suite. The main structure of the building comprises of chhatris and chhaparkhats with eight pillars. There are domes which are semicircular in shape and there are triangular roofs made of khaprels or roof tiles.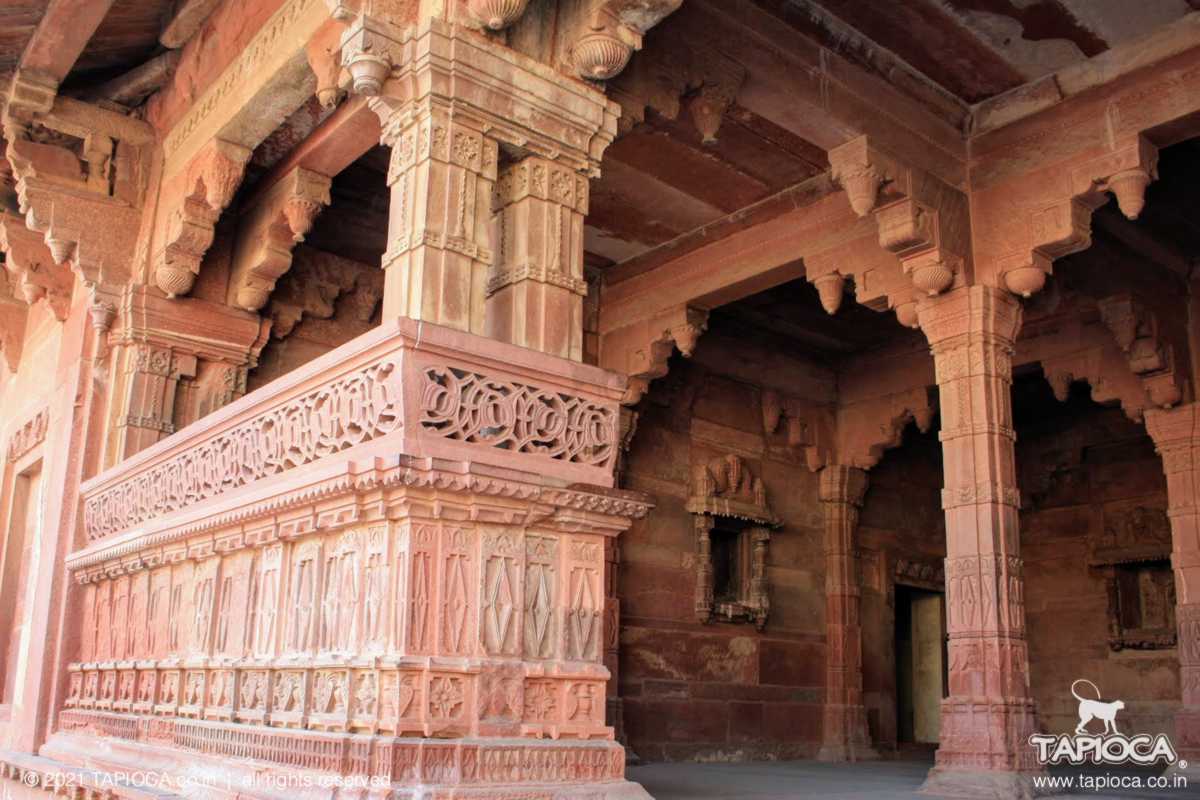 Jodha-Bai-Palace-Pillar
Red sandstone carved pillar inside Jodha Bai Palace
See Also : Jodha Bai Palace