Thirunelli in Wayanad is popular for two things : pilgrimage to Thirunelli Temple and base for trekking to Pakshipathalam.
To be a bit more specific , the ancient temple at Thirunelli is known for rites that is offered to the departed souls. Also for tourism, it's a birder's delight and trekker's paradise .
Attractions:
Thirunelli Temple
Pakshipathalam
Papanashini
Kalindi River
Hotels in Thirunelli:
KTDC Tamarind.
Thirunelli Temple Guest House (Pancha Theertham).
See also: How to reach Thirunelli
Thirunelli Temple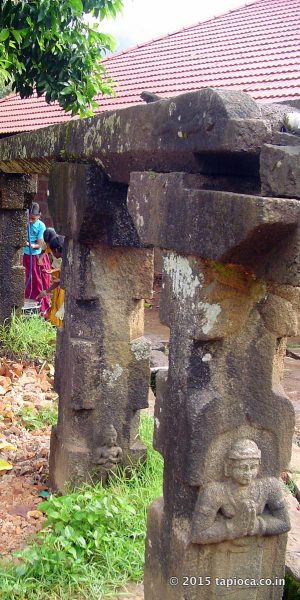 How to Plan Your Wayanad Itinerary.
There are two ways to do Wayanad sightseeing; first, craft your do-it-yourself type sightseeing plan and the second, go for a standard sightseeing package the local travel agencies offer.❯
Bangalore to Mananthavady via HD Kote
This route will take you to the northern fringes of Wayanad via Mysore City and Nagarhole forest. The famed Kabini River Lodge, Serai, Kabini and Orange County, Kabini all are located on this route to Wayanad. ❯
How to reach Thirunelli ?
Wayanad
Kerala is often described as the God's Own Country. Wayanad must be its capital! ❯
Bangalore to Mananthavady via Nagarhole
Bangalore -- 150km --> Mysore -- 45km --> Hunsur -- 20km --> Nagarhole entry gate -- 30km --> Nagarhole exit gate -- 4km --> Kutta -- 18km--> Kattikulam -- 10km --> Mananthavady❯
Bangalore to Wayanad by Road
How to reach Wayanad from Bangalore?❯