In the Indian Hindu mythology, Lord Murugan is the favorite deity for many. You would have noticed Murugan Temples being established, wherever Indians live in foreign countries from US to many European, Asian and even African countries. This is because Lord Murugan, the second son of Lord Shiva-Goddess Parvathi, is regarded as the spirit of Gnanam (Wisdom) and destruction of evil forces – Sura Samharam.
In Madurai, Tamilnadu, India a heritage city of 2500 years old, Tiruparankundram is an important landmark. This is a hill-temple (1050 feet above sea-level) carved out of a hillock. The principal deity is Lord Murugan, along with other deities of Shiva, Parvathi, Kali (another fierce-face of Parvathi as Sakthi); Lord Vishnu; Vinayakar (elder son of Lord Shiva); Naradha (the angel-rishi always flying places in the heavenly abodes and exchanging information like our present-day press reporters); Brahmma (the creator of human beings and sending them to this world constantly) Indhran (leader of angels); the Sun and the Moon.
Thiruparankundram is considered the first of the Six Abodes of Lord Murugan (the other five being – Tiruchendur (seashore in Kanyakumar District ;) Palani (another hill temple in Madurai District); Swamimalai (in Thanjavur District); Tiruttani (hill temple in Trivellore District); and Pazhamuthicholai (in the jungles near Madurai – Alagar Kovil). Madurai Sangam (Academy) Poet Nakeerar has specialized these six holy shrines of Lord Murugan, in his "Thirumurukaartupadai". Tamilians consider Lord Murugan as Tamil Kadavul (Deity).
Thiruparankundram has many rarities about it. Notwithstanding its structural wonders; exquisite stone carvings of various deities in the 48 pillared Mandapam (Hall); the Natarajar (Shiva) dancing with his Flag and Parvathi seeing the dance in a reclining posture on Nandi – you can worship Brahmma only in this temple (as he had a curse that people will not build temples for him); Sun (Surya) and Moon (Chandra) are at the same place, which could never happen in the universe. Vahanas (vehicles) of divine personalities – Vishnu's Garuda; Shiva's Nandi; Vinayakar's rat Mooshika; and Murugans Peacock – all sculptured side by side.
The mythology goes Lord Murugan was offered wedlock of Deivayani, daughter of Indhran as a reward of gratitude, since Murugan fought a fierce battle with the evil force Surapadman (at Tiurchendur) and released the Devas from the clutches of bondage to him. Thiruparankundram is where that marriage took place with all the guests, including the Sun and Moon attending and Lord Murugan got the blessings of his parents Siva (Paranagirinadhar) and Parvathi (Avudainayaki).
The divine sculptor, Viswakarma, was ordered to erect this abode for the permanent worship of all the deities. This is the only shrine you can see Lord Murugan with his senior consort Deivayani, whereas in all other abodes he is seen with both of his consorts – Deivayani and Valli. As this is the venue of Lord Murugan's wedding, it is considered auspicious for weddings and hundreds of thousands of marriages for generations are taking place here.
There is also a very peculiar thing happening here – on the backside of Thiruparankundram hill-top, there is a Muslim Dargah of Hazrat Sulthan Sikhandar Badusha, who came from Jeddah in the 9th century. People irrespective of religion from all parts of Kerala and Tamilnadu throng this place, to worship and get relieved of their troubles.
Thiruparankundram Murugan Temple, was built by Maravarman Sundara Pandiyan, and is just 8 KMs from Madurai city on the National Highway, with frequent busses to the temple, which is open from 5.30 am to 9 pm.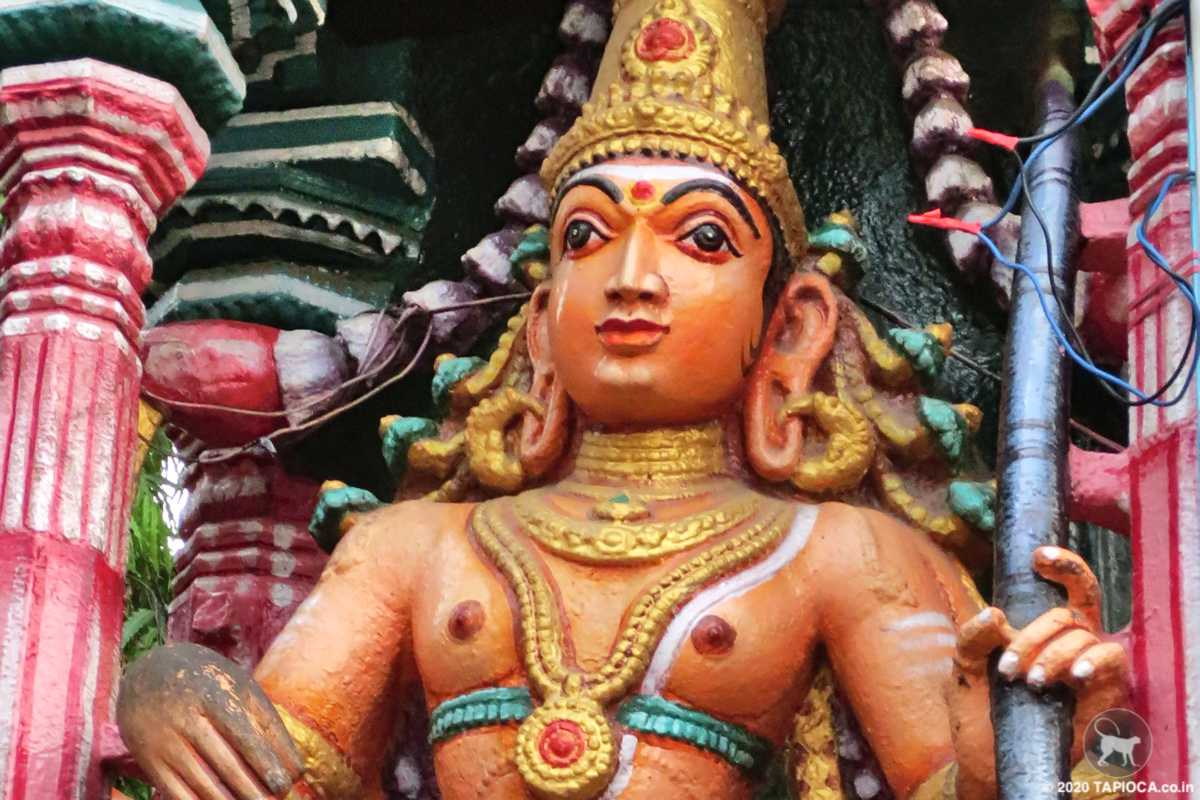 Thiruparankundram stucco
Brightly painted stucco image in the porch of the Temple.
See Also : Thiruparankundram