Bekal, the seaside resort town located in Kasaragod,
Kerala
. The following is a list of popular attractions in and around Bekal.
Attractions around Bekal, listed from (roughly) north to south of Bekal. See the route map for Bekal sightseeing further below on this page.
Attractions around Bekal
The listing is done from north to south, with Bekal town appearing somewhere in the middle of the list. See also the map attached to plan your Bekal sightseeing itinerary.
Posadi Gumpe : (45km north of Bekal) Laterite hillock with great panoramic view. Ideal day expedition and picnic destination.
Adoor Shiva Temple: (33 km northeast of Bekal on the way to Jalsoor) A large ancient temple built in the traditional Kerala architecture style.
Bela Church : (25km north of Bekal near Seethangoli). Oldest church in Kasargod. Built in 1890 in Gothic Revival style.
Mallam Durga Parameshwari Temple: (21km northeast of Bekal). Durga temple near Bovikanam.
Povval Fort : (18km northwest of Bekal on the way to Jalsoor) A laterite built small fort with unique design.
Ananthapura Lake Temple : (28 km North of Bekal) The only lake temple in Kerala.
Perne Muchilot Bhagavathi Temple : (23 km north of Bekal) One of the 28 Muchilot Bhagavathi temples in Kerala. This temple in Perne is the northmost in Malabar region. 1½km west of Ananthapura lake temple.
Maipady Palace: (20km north of Bekal) Palaces of Kumbala Rajas.It's now the private property owned by the descendants of the erstwhile rulers.
Madhur Anantheshwara Vinayaka Temple : (20km north of Bekal) A large temple with associate popular folklores. Impressive architecture.
Mallikarjuna Temple : (12km north of Bekal). One of the oldest temples in Kasaragod. This Siva temple is located inside Kasargod town.
Malik Dinar Mosque : (14km North of Bekal) One of the oldest mosques in India. Built in typical Kerala style architecture with terracotta roof. Beautiful view of the backwaters behind the mosque.
Chandragiri Fort: (10 km north of Bekal) 17th century fort.Offers fantastic panoramic views.
Chembirika beach : (9km north of Bekal). Beach on the northern edges of the Kalanad River/Backwater joining the sea.
Uduma beach : (6km north of Bekal). Just south of Chembirika beach  on the southern edges of the Kalanad River/Backwater. Walkable from Chembirika beach.
Kappil Beach : (2 km west of Bekal) Idyllic beach, devoid of the typical tourist paraphernalia.
Kappil River : (1km west of Bekal) The river joins sea between the Kappil Beach and Kodi Cliff.
Bekal Cliff: (½km west off highway from Bekal). Laterite outgrowth protruding to the sea. Great view point and beach hiking location.
Trikannad : (1km South of Bekal) The sea facing Trikannad Temple popular for ancestor worship (Pithru Tharpanam). The beach with a rocky outcrop called Pandyan Kallu 2km from the shoreline is popular among the adventure swimmers.
BekalFort : (3km south of Bekal) The best preserved fort in Kerala. Located by the seaside.
Bekal Beach : (2km south of Bekal ). Just south of Bekal fort.
Pallikere Beach : (5km south of Bekal) Popular beach and a nice park near Bekal Fort.
Anandashram: (15km South of Bekal) Spiritual centre built by Swami Ramdas in 1931.
Hosdurg Fort : (15km south of Belkal). Ruins of the old fort. On the way to Nithyananda Ashram in Kanhangad.
Kareem's Forest Park : (42 km southwest of Bekal). Only man-made forest in kerala. This forest spread across 32 acres of land.
Ranipuram : (54 km east of Bekal on the way to Madikeri). Hiking destination on the fringes of the western Ghats.
Kottancheri Hill : (60 km southeast of Bekal on the way to Madikeri). Hiking destination and scenic spot close to the Kerala-Karnadaka border on the Western Ghats.
Malom : Located between the Ranipuram and Kottanchery hillstations.
Valiyaparamba backwaters : (25km South of Bekal) Scenic backwater. Popular houseboat cruise locations.
Achanthuruthu Footbridge: (25km South of Bekal). Longest footbridge in Kerala. Across the Tejaswini river
Veeramala Hill (28km south of Bekal) : Located near Nileshwar , overlooking the Tejaswini River. Day hiking destination with scenic view. Ruins of a Dutch fort atop.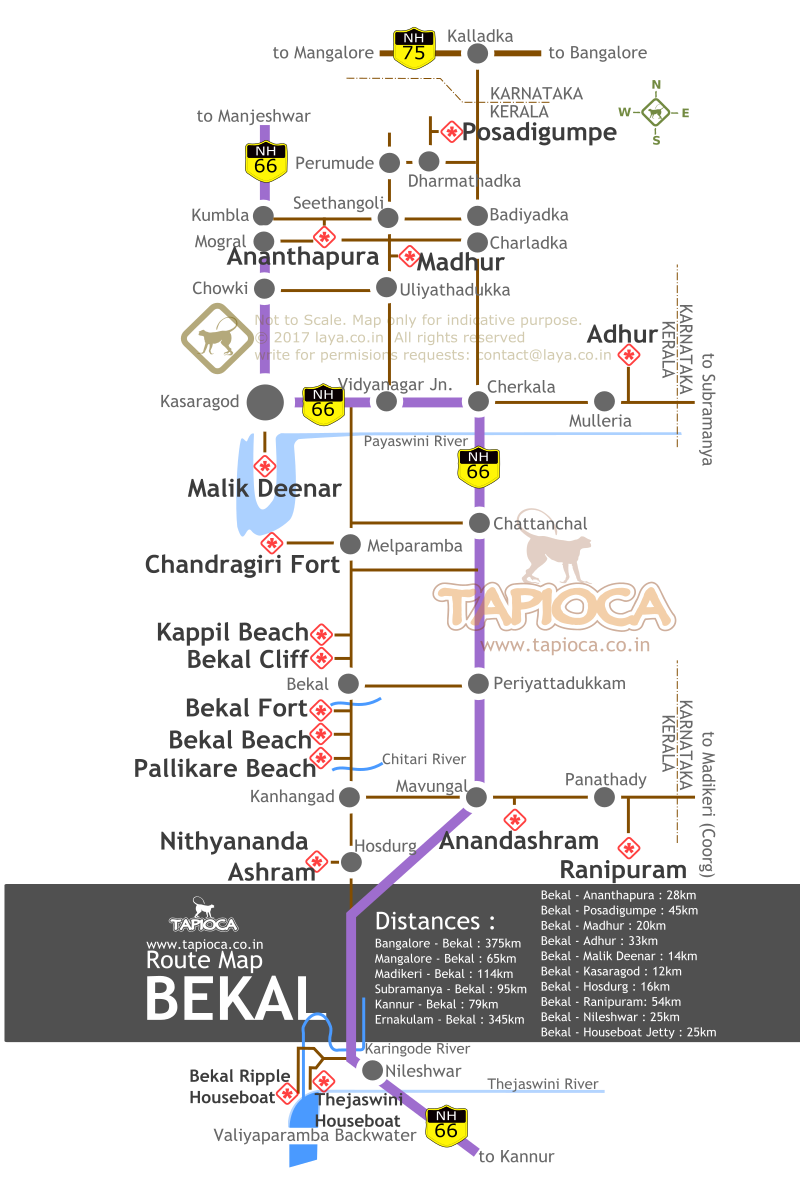 Bekal Route Map
Route map and distances to attractions in and around Bekal, Kerala. Bekal - Ananthapura : 28km Bekal - Posadigumpe : 45km Bekal - Madhur : 20km Bekal - Adhur : 33km Bekal - Malik Deenar : 14km Bekal - Kasaragod : 12km Bekal - Hosdurg : 16km Bekal - Ranipuram: 54km Bekal - Nileshwar : 25km Bekal - Valiyaparamba Backwater Houseboat Jetty : 25km
See Also : Itinerary for Bekal